4/29/07 Benefit Concert - You CAN HELP!!!
(OFFICIAL PRESS RELEASE AT BOTTOM, BELOW THE FLYERS)
EVERYONE is invited to this show. It's all-ages, from 4pm-9pm on a Sunday evening, and there's room for 1200 people. Let's really pack the house for Parsons!!! There will be free food, we're giving away a BRAND NEW guitar, a YEAR MEMBERSHIP to the gym, GIFT CARDS from Olive Garden, much much more, ALL TO RAISE MONEY FOR PARSON'S RECOVERY!!
Special thanks to the following donations (to be raffled off at the show):
Madison Theater
cincinnatimusic.com - thanks for the banner ad!!
Shadowbox Cabaret (thanks Kasha)
Psycho D (flyer design)
Smokey Bones (for the brand new custom Fender Guitar and gift cards)
Shake It Records
CPS for printing donation flyers
YMCA - 9 month membership
Home Depot
Fitworks 90 day membership
Applebees card
Hollywood video free rentals
Cincy Tanning company- free visits
Johnnyt car wash
Tuffys auto care- oil change
Cherry Grove lanes - open free bowling - monday
Superamerica- bottled water
Kuhls hot spot gift cert
MBM Food
Red lobster olive garden gift vertr
Planet Collectibles - sports stuff
Great Wolf Lodge - Rooms and passes
Handy Man Landscaping - free grass cutting
wine
Download this as a
Here's the media you need:
PRINTABLE 3 on a sheet BLACK AND WHITE HANDBILLS
PRINTABLE 3 on a sheet COLOR HANDBILLS
FAXABLE/printable BLACK AND WHITE flyer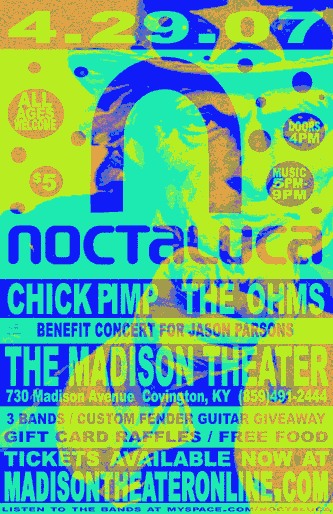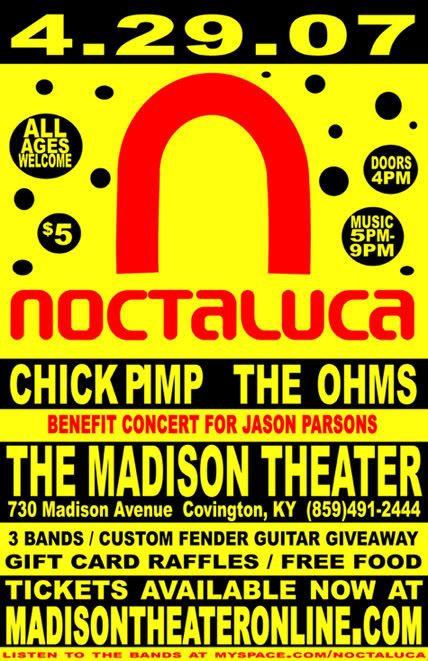 EVENT DATE: SUNDAY, APRIL 29TH, 2007.                                               
      FOR IMMEDIATE RELEASE

 

TRI-BAND BENEFIT FOR CRITICAL NOCTALUCA BURN VICTIM 
 

Early on the morning of March 31st, Cincinnati rock band Noctaluca and their fans
were stunned by news that their first roadie and good friend Jason Parsons was
critically burned in a predawn house fire on Apple Blossom Lane in Anderson
Township, a suburb of Cincinnati.  Parsons is currently hospitalized with third
degree burns to 35% of his body and remains in critical condition.  In response,
Noctaluca has organized a benefit for Sunday, April 29th, 2007. An unrestrained
top-drawer evening of music and prizes, the three-band charity event will feature
award-winning Cincinnati music acts, free restaurant foods, numerous donated raffle
prizes (including a new limited-edition Fender guitar and a one year gym
membership), split the pot, and other fundraising activities.

The show will feature a rare opportunity for music fans young and old (all ages
welcome) to see some of the Tri State's best musicians perform together at just $5
per ticket.  The event will be celebrated in the beautifully restored art deco
Madison Theater (www.madisontheateronline.com) just south of the Ohio River on
Madison Avenue in Covington, KY.

Doors open at 4 pm and music starts at five (music from 5pm-9pm). The jazzy Chick
Pimp group opens with their avant-garde improvisation grooves, followed by CEA
award-winning jammers The Ohms, dropping heavy reggae/dancehall mixes. The night
culminates in a full-bore rock performance from the critically-acclaimed Noctaluca
at eight p.m. 



Advance ticket purchases are suggested as space is limited. Tickets can be acquired
online at the Madison Theater website or at the door. Thanks to many local business
donations and volunteer efforts, this promises to be one of the best concert values
of the year.



--------------------------------------------------------------------------------


Chick Pimp Bio:

Chick Pimp was founded in the fall of 2005. Stressing improvisation and alternative
jazz structures, the band started jamming with anyone and everyone.  The
improvisation element has since evolved into a spiritual entity like nothing you've
ever heard. Jokingly described as "ozone jazz", Chick Pimp playfully aggravates a
variety of traditionalists by combining elements of jazz, bluegrass, folk, and
classical music to build a high sanctuary of mind and movement.

Music samples available at: http://www.myspace.com/chickpimpcokedealeratabar 


The Ohms Bio:

A fresh concoction of new urban jam sounds, the heavy reggae/dancehall influence is
ever-present with The Ohms, as they weave jazz, funk, rock, hip-hop and more into
the mix. With a strong focus on songwriting and originality, they are the organizers
and headliners of The Annual Ohmstead Festival. In addition, they are also winners
of the coveted Cincinnati Entertainment Awards "Jam Band Of The Year" (2005).  

Music samples available at http://www.theohmsmusic.com


Noctaluca Bio:

This group of talented musicians and performers unite a variety of rock styles and
influences to create an instantly recognizable yet unclassifiable genre of
modern/alternative rock. Their neo-classic sound was captured on the highly
acclaimed "Towering the Sum" concept CD, replete with impressive performances,
international graphics from Gottfried Helnwein, and world-class Ashley Shepherd
production. The four piece features CEA "Songwriter of the Year" Jason Ludwig on
lead vocals and guitar, complimented by the progressive riffs of lead guitarist Jay
Aronoff of Mara fame. Their rhythm section pairs drummer/vocalist Brandon Schlunt
and brother Psycho D on bass guitar/vocals. Destined for international exposure,
these four musicians create a plethora of high-performance pieces that have
outside-the-box lyrics and more hooks than a discount bait shop.

Music samples available at http://www.noctaluca.com 


--------------------------------------------------------------------------------
Noctaluca principles are available for scheduled interviews for publication or
airtime prior to the event. For further information or to schedule, please contact
Noctaluca management at the above numbers. We thank you in advance for your kind
support of this cause.
-----------------------------------------------------------------------------------
Labels: auction, benefit, burn, concert, critical, help, jazz, love, noctaluca, ohms, parsons, pimp, raffle, reggae, rock